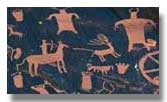 Utah's history is as diverse as its scenic views. Before the Mormon pioneers, there were the Anasazi and Native Americans including the Ute tribe after which Utah was named. Mexicans and Spaniards were the first known non-Indians to enter what is now the state of Utah. Utahns are particularly indebted to two Franciscan priests, Dominguez and Escalante, who in 1776 kept a detailed diary of their expedition describing plant and animal life; geography; and the appearance, dress, food, and life ways-of the Utes and Paiutes. In the 1840s United States government explorers and settlers bound for California came into Utah. Among the most notable explorers of the West in this period was John C. Fremont who mapped trails and described the land and plant and animal life of the Great Basin.
When Joseph Smith, Jr., founder of the Church of Jesus Christ of Latter-day Saints, and his brother Hyrum were assassinated at Carthage, Illinois, in June 1844, Brigham Young and other Mormon leaders moved their faithful west. Their exodus began February 4, 1846 and ended in the Salt Lake Valley on July 24, 1847. Although the struggle for survival in the desert was difficult in the first years of settlement, basic industries developed rapidly, the city was laid out, and building began. Utah's territorial period, 1850-1896, was marked by Mormon expansion, the immigration and settlement of non-Mormons, the development of transportation and communications, economic growth, religious conflict and the coming of the railroad. In 1868, Brigham Young contracted with Union Pacific to build part of the transcontinental railroad through Echo and Weber canyons. Meanwhile, hundreds of Chinese worked on the Central Pacific line east from Sacramento. Finally, on May 10, 1869, the Central Pacific and the Union Pacific were joined at Promontory Summit, Utah. Utahns began petitioning Congress for admission to the Union in 1849, but statehood would not become a reality until January 4, 1896.
Today, 1.6 million people live along the Wasatch Front, including 171,000 residents in Utah's capitol city. Downtown Salt Lake City's booming business district includes the Salt Palace Convention Center, Gallivan Plaza, Hansen Planetarium, and the Romanesque-styled Salt Lake City and County Building. The city boasts three major shopping malls, Crossroads Plaza, ZCMI Mall and Trolley Square, containing more than 300 retail stores and specialty shops. TRAX, a light-rail transit system provides north-south service over a 15-mile route from downtown through the Salt Lake valley and east-west service will come on-line in December 2001. The Salt Lake City International Airport is served by 11 airlines with over 300 scheduled daily departures, offering nonstop service to over 68 destinations. From February 8-24, 2002, Salt Lake City will host an estimated 70,000 visitors per day during the XIX Olympic Winter Games. Athletes from approximately 80 countries are expected to participate. Utah is said to have "The Greatest Snow on Earth," with over 500 inches of the lightest, driest, and fluffiest snow found anywhere in the world falls at the ski resorts in Utah. 11 of Utah's 14 resorts are located within a one-hour drive of Salt Lake City. Deer Valley Resort, Park City Mountain Resort, and Snowbasin Ski Area will host Alpine events for the 2002 Olympic Winter Games.